Get Ready Today!
For the soon to be released HomeAway direct connection, you need to make sure you have the minimum content requirements loaded In ResOnline in order to proceed with the mapping once this connection is released.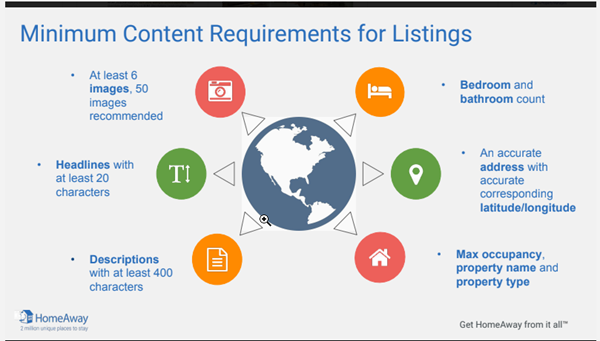 Minimum Content Requirements for HomeAway!
In order to be accepted for this connection you need: 
1. A minimum of 5 listings
2. Be a Self-Contained property and provide a kitchen
3. Meet the minimum content requirements as outlined below for each of your listings:
Property Name & Headline – min 20+ characters

Address - address, city, postal code, country

Geo Latitude & Longitude - The Region (chosen based on the longitude and latitude provided)

Property & unique room descriptions – min 400+ characters

Images – At least 6 images in JPEG format, min 1920 x 1080 - recommended 3840 x 2160 px

Property & Room features  – min 5+ amenities 

Bedrooms & Bathrooms - at least one of each must be specified

Inventory – At least 12 months of availability data with >30% bookable nights

Cancellation Policy - please select an HomeAway cancellation policy during mapping in ResOnline Distribution

Registration Number – The Registration Number must be specified to HomeAway;( if the property's jurisdiction requires registration).

Rental Agreenment PDF – Upload a PDF under ResOnline Property Details - Booking Policies to send HomeAway.(This covers the rental rules and policies to the guest).
Please ensure that you have minimum content entered into all your listings that are in ResOnline. 
ResOnline will let you know via email, once this connection is ready to go live!